Take a look at these types of rice to determine which flavor profile, color, length, and texture will work best for your next signature recipe.
Arborio
Arborio rice is a medium grain rice that is wider in size and has a characteristic white dot at the center of the grain. It is named after the town of Arborio in the Po Valley of Italy, where it is grown. Due to the high starch content of Arborio rice, it has a slightly chewy and sticky consistency and develops a creamy texture when cooked.
Length: Medium grain
Flavor Profile: Creamy
Ideal For: Risotto, rice pudding, soup
Basmati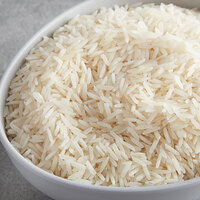 When cooked, basmati rice grains are long, dry, and separate. They impart a pleasant, nutty aroma and flavor in any dish. It is common in Indian and Asian cuisine, but it can be used in a variety of flavorful recipes. Serve it plain or with fresh herbs, green onions, coconut, or vegetables for a signature pilaf.
Length: Long grain
Flavor Profile: Nutty
Ideal For: Dal, curry, saffron rice
Brown
Brown rice grains have a chewy texture when cooked. They impart a pleasant, slightly nutty flavor in any dish. The nutritious bran layers are left on brown rice so it can retain its natural goodness and tan color. Rich in vitamins and minerals, brown rice is a 100% whole grain food. It is a versatile rice that becomes light and fluffy when cooked, ensuring it won't stick together.
Length: Long grain
Flavor Profile: Nutty
Ideal For: Stuffed peppers, casseroles, stir-fry dishes, rice pilaf.
Jasmine
Cultivated in Thailand, jasmine rice will bring an exotic flair and flavorful accent to any dish. It develops a pleasant jasmine aroma while it is cooking. Use it when making a variety of traditional Asian dishes, including curries and stir-frys. The moist, soft texture is ideal for soaking up spices and flavors.Length:
Long grain
Flavor Profile: Floral, jasmine flavor, and aroma
Ideal For: Curry, stir-fry dishes, and other Thai and Asian cuisine
White
Due to the starch composition of white long grain rice, it has a slightly sticky consistency that's useful in stuffing, casseroles, and stir-fry dishes. It is arguably the most familiar and easily recognizable rice in traditional American recipes, and it's also popular in Asian and Mexican cuisine. Compared to other varieties of rice, it has a mild flavor and light and fluffy texture when cooked.
Length: Long grain
Flavor Profile: Mild
Ideal For: Stuffing, casseroles, stir-fry dishes, rice pilaf
Warning
: Invalid argument supplied for foreach() in
/data1/www-sites/krishireview.com/wp-content/themes/exotic/content.php
on line
10